A visit to the Hooge Crater Museum is recommended for young and old, tourists and historians alike. It is important to book in advance.
Visiting with the (grand)children?
In the Hooge Crater Museum, children can set off on their own with the Hooge Boys' trail. Using a fill-in sheet and museum plan, they arrive at several large signs in the museum. There, they find films of the Hooge Boys, facts about World War I and assignments. In the museum, the signs are placed at children's eye level and written in simple words. It is an interactive and playful trail with fun assignments. So the visit is very child-friendly and definitely worthwhile.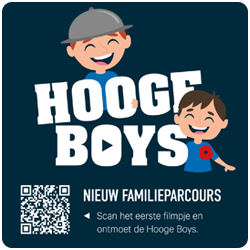 Would you like to be accompanied by a storyteller?
He will take you on a tour of Het Hooge for 35 euro per hour. There is also a walking arrangement (2 hours) with storyteller for 70 euro along craters, trenches, bunkers and cemeteries.
Would you rather take a bike? Choose our cycling arrangement (4 hours) with storyteller for 140 euro. Bicycles can also be rented.
Entrance fees
Children ≤ 6 years :

free

Teenagers 7 - 18 years :

€ 5 / person

Students 18 - 26 years :

€ 6 / person

Adult > 26 years :

€ 8,50 / person
Touristic entry point East
Touristic entry point East is located next to the museum and is a visitor centre that is open every day. From here you discover the beautiful landscape of the eastern Ypres Salient, on both sides of the Menin Road, with authentic remaining front areas, important cemeteries, the original battlefield with numerous craters and relics on Bellewaerde Ridge. There is also a fascinating app to guide you on this unique walk. More info on www.toerisme-ieper.be.
For reservations or additional questions, please contact us.